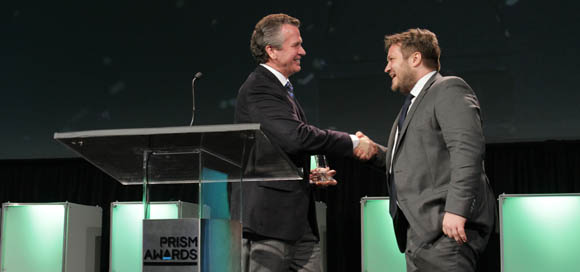 The gala Prism Awards banquet serves as an industry showcase for the
best new products from across nine industry categories.
BELLINGHAM, Washington, and PITTSFIELD, Massachusetts, USA — Entries are being accepted through 7 October for the prestigious 2017 Prism Awards for Photonics Innovation. The competition is sponsored annually by SPIE, the international society for optics and photonics, and Photonics Media to honor groundbreaking technology and product inventions within the high-impact industry of optics and photonics.
The Prism Awards competition is not just a beauty contest, as the successes of past winners attest. Presented in nine categories by industry leaders at a banquet featuring the who's who of the photonics industry, the awards boost visibility, recognition, and brand equity for companies bringing innovative products to the market. A scan of recent news details some of the winners' results:
"Our goal with the Prism Awards is to give visibility to the extraordinary innovation across the optics and photonics community," said SPIE CEO Eugene Arthurs. "The range and quality of submissions are striking. Each year we showcase evidence of the realization of the potential for photonics that can be found in SPIE conferences. It is energizing to be part of this enterprise, encouraging invention, and laying the foundations for rewarding and meaningful careers."
Prism Awards applications are judged by a panel of leading industry experts, venture capitalists, luminaries, and visionaries. Winners will be named at a gala banquet on 1 February during SPIE Photonics West in San Francisco, California.
"The 2017 line-up is already poised to be impressive," said Pamela Robertson, SPIE Industry Relations and Prism Awards Manager. "Every year applications give us a glimpse of the future, via technology advances in healthcare, security, manufacturing, consumer electronics — from phones to virtual and augmented reality — and more. I'm honored to work with these individuals and companies."
About SPIE
SPIE is the international society for optics and photonics, an educational not-for-profit organization founded in 1955 to advance light-based science, engineering and technology. The Society serves nearly 264,000 constituents from approximately 166 countries, offering conferences and their publi www.spie.org
About Photonics Media
Photonics Media, a brand of Pittsfield, Mass.-based Laurin Publishing Co. Inc., publishes Photonics Spectra, BioPhotonics, EuroPhotonics, Photonics Buyers' Guide and Photonics.com. With a collective subscriber base of more than 150,000 worldwide and more than 4 million unique website visits per year, Laurin Publishing's Photonics Media products and publications lead the photonics industry with editorial excellence and integrity -- fostering a tradition of innovation and progress by sharing knowledge, insights and visions for the future. More information at www.photonics.com
---
Contact:
Amy Nelson
Public Relations Manager
amy@spie.org
+1 360 685 5478
@SPIEtweets
---