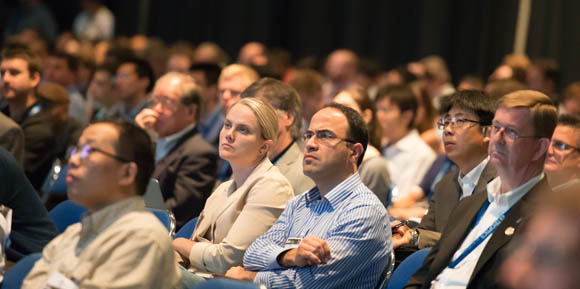 More than 1,000 presentations in nanoscience and nano-engineering await attendees
of SPIE Optics + Photonics this month;
above, a rapt audience listens to plenary talks during the 2015 event.
BELLINGHAM, Washington, USA, and CARDIFF, UK — Technologies enabling the capability to control and manipulate light at the nanoscale promise powerful new applications for energy, medicine, communications, and other crucial areas of modern life. The SPIE Nanoscience and Engineering symposium held as part of SPIE Optics + Photonics later this month in San Diego will spotlight reports and updates on the field's latest advances from leading international researchers.
Conferences and a three-day exhibition run 28 August through 1 September in the San Diego, California, Convention Center.
With more than 1,000 presentations, SPIE Nanoscience and Engineering has become the largest international symposium focused on nanoscience, nanoengineering, and quantum science.
New this year is a conference on UV and Higher Energy Photonics chaired by Gilles Lérondel of the Université de Technologie Troyes, Satoshi Kawata of Osaka University, and Yong-Hoon Cho of KAIST.
Several plenary speakers will report on emerging technologies and materials for nanoscale research and applications:
Paras Prasad, University at Buffalo, State University of New York, will tell how applications from brain research to solar-energy conversion to security encoding can be advanced via photon management through in situ photon conversion with efficient, ultrasmall optical nanotransformers.
Andrea Alù, University of Texas at Austin, will discuss recent research in electromagnetics and nano-optics, showing how suitably tailored meta-atoms in various arrangements enable manipulation and control of waves in unprecedented ways.
Alexandra Boltasseva, Purdue University, will describe new materials helping to drive consumer-level applications in sensing, spectroscopy, communication, and energy.
Harald Giessen, Universität Stuttgart, will discuss work with atomically flat single-crystalline gold surfaces toward solving the problem of surface plasmons showing dispersion close to the light line and thereby reducing wavelength resolution.
Among keynote and invited talks on the latest advances:
Federico Capasso, Harvard School of Engineering and Applied Sciences, will discuss work at Harvard and CNR-SPIN in high-performance metasurface optical components for the visible (RGB) spectrum (9918-31). This work enables applications such as wearable optics that require planar high-performance optical elements at visible wavelengths.
Eva Campo of Bangor University will give a talk on work done with researchers at Synchrotron Research, Inc., Brookhaven National Lab, U.S. National Institute of Standards and Technology, Lawrence Berkeley National Lab, and the Air Force Research Lab on materials by design to inform fabrication of graphene-based field effect transistors (9928-9).
Manijeh Razeghi, Northwestern University, will give an update on her group's work in room-temperature THz sources (9934-5). Widely used for chemical detection, THz spectroscopy has applications in quality control for manufacturing, security screening, and astronomy.
Vladimir Shalaev, Purdue University, will give a talk about new material platforms and metasurface designs for nanophotonics and quantum photonics (9920-28). His group is developing new plasmonic materials that will form the basis for future low-loss, CMOS-compatible devices.
In the conference on Spintronics, Jonathan Sun, IBM Research, will present on spin-transfer-torque based devices in a session on MRAM (magnetic random access memory) technology (9931-37). Masud Mansuripur, University of Arizona College of Optical Sciences. will discuss behavior of electromagnetic fields trapped in an optical cavity, including the leaky modes of cylindrical and spherical optical cavities having orbital or spin-angular momentum (9931-10).
Jeremy O'Brien, Center for Quantum Photonics, University of Bristol, will discuss photonic quantum technologies, in a track on Quantum Communications (9980-30).
Javier García de Abajo, ICFO — Institut de Ciències Fotòniques, will speak on quantum optics with graphene plasmons, including recent advances toward implementation, in the opening talk in the conference on Metamaterials, Metadevices, and Metasystems (9918-1).
Symposium chairs are Harry Atwater, California Institute of Technology, and Nikolay Zheludev, University of Southampton and Nanyang Technological University. Symposium co-chairs are David Andrews, University of East Anglia, and James Grote, Air Force Research Lab.
Nanoscience and Engineering is one of four symposia at SPIE Optics + Photonics, also including Optics and Photonics for Sustainable Energy, Organic Photonics and Electronics, and Optical Engineering and Applications.
SPIE Optics + Photonics offers a three-day free-admission exhibition, industry sessions on commercialization, a market update on photonics-enabled technologies and R&D and other topics, an extensive suite of professional development courses in fundamental and advanced technologies, and numerous networking opportunities.
More details including registration information are on the event website. Registration prices increase after 12 August.
About SPIE
SPIE is the international society for optics and photonics, an educational not-for-profit organization founded in 1955 to advance light-based science, engineering and technology. The Society serves nearly 264,000 constituents from approximately 166 countries, offering conferences and their published proceedings, continuing education, books, journals, and the SPIE Digital Library. In 2015, SPIE provided more than $5.2 million in support of education and outreach programs. www.spie.org
---
Contact:
Amy Nelson
Public Relations Manager
amy@spie.org
+1 360 685 5478
@SPIEtweets
---