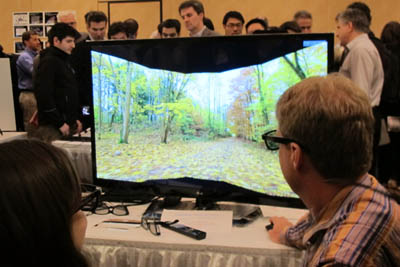 The well-attended interactive demonstration session (above) at Electronic Imaging provides a hands-on look at new technology.
BELLINGHAM, Washington, and SPRINGFIELD, Virginia, USA -- A new venue, a new conference on material appearance in the Image Processing track, and the next new technologies and applications for virtual reality and mobile devices are among highlights in the program for IS&T/SPIE Electronic Imaging Science and Technology in 2014. Sponsored by the Society for Imaging Science and Technology (IS&T) and SPIE, the international society for optics and photonics, the event will run 2-6 February at the Hilton San Francisco (California) Union Square.
The program's more than 650 presentations are organized into 20 technical conferences on topics in:
3D Imaging, Interaction, and Metrology
Visualization, Perception, and Color
Image Processing
Image Capture
Computer Vision
Media Processing and Communication
Mobile Imaging.
Plenary speakers are:
Jack Gallant of University of California, Berkeley, on "Using fMRI to reverse engineer the human visual system"
Charles Bouman of Purdue University, on "Integrated imaging: creating images from the tight integration of algorithms, computation, and sensors."
Among other highlights, the perennially popular 3D Theatre featuring new, original 3D footage from around the world will again be presented as part of the Stereoscopic Displays and Applications conference. The conference is celebrating its 25th anniversary in 2014, and includes as a new event a "Magical Mystery 3D" bus tour of Silicon Valley 3D companies.
In the conference on The Engineering Reality of Virtual Reality, Jacquelyn Ford Morie of All These Worlds will moderate a panel discussion themed "When VR really hits the streets," to explore the next generation of VR devices and techniques.
A symposium-wide keynote track will include 10 featured talks:
"The science of social interactions on the web," Ed Chi, Google
"Piracy conversion: the role of content protection and forensics," Richard Atkinson, Adobe Systems
"Digital wallet and mobile payment" by Sunil Jain, Intel
"Photo forensics from shadows and shading," Hany Farid, Dartmouth College
"Compressive displays: combining optical fabrication, computational processing, and perceptual tricks to build the displays of the future," Gordon Wetzstein, MIT Media Lab
"Seven challenges for image quality research," Damon Michael Chandler, Oklahoma State University
"Images shared in social media: a window into human sentiment and emotion," Shih-Fu Chang, Columbia University
"Digital coloring books," Patrick Hanrahan, Stanford University
"Perceptual tools for quality-aware video networks," Alan Bovik, University of Texas at Austin
"Perceiving, measuring, and modeling 3D material appearance," Christopher Tyler, Smith-Kettlewell Eye Research Institute.
An interactive, hands-on demonstration session will showcase industry suppliers with their latest hardware, software, imaging, and display products.
Several new courses are among 15 to be offered on fundamental and current topics on digital imaging systems, image processing, analysis, displays, and other topics. New courses are on:
Computer Vision and Imaging in Transportation
Image and Video Forensics
Joint Design of Optics and Image Processing for Imaging Systems
Digital Camera and Scanner Performance Evaluation
Perception, Cognition, and Next-Generation Imaging
Perceptual Metrics for Image Quality Evaluation.
A new focal track model allowing authors to present at the symposium and publish associated papers as peer-reviewed journal articles in the Journal of Electronic Imaging is available for authors in the Mobile Computational Photography and Stereoscopic Displays and Applications conferences. Journal articles will be published concurrent with the meeting and also distributed to conference attendees in conjunction with the conference proceedings publication.
Regular conference proceedings papers will be published individually in the SPIE Digital Library as soon as approved after the meeting, and also in collected print and digital volumes.
Sergio Goma of Qualcomm is symposium chair, and Sheila Hemami of Northeastern University is symposium co-chair. Choon-Woo Kim of Inha University is short course chair, and Majid Rabbani of Eastman Kodak is short course co-chair.
Electronic Imaging participants are invited to attend the SPIE Photonics West Exhibition at the nearby Moscone Center 4-6 February. Registration is required and is free of charge.
The Society for Imaging Science and Technology (IS&T) is an international non-profit dedicated to keeping members and others apprised of the latest developments in fields related to imaging science through conferences, educational programs, publications, and its website. IS&T encompasses all aspects of imaging, with particular emphasis on digital printing, electronic imaging, color science, photofinishing, image preservation, silver halide, pre-press technology, and hybrid imaging systems.
SPIE is the international society for optics and photonics, a not-for-profit organization founded in 1955 to advance light-based technologies. The Society serves nearly 235,000 constituents from approximately 155 countries, offering conferences, continuing education, books, journals, and a digital library in support of interdisciplinary information exchange, professional networking, and patent precedent. SPIE provided over $3.2 million in support of education and outreach programs in 2012.
The popular 3D Theatre (above) is among many highlights of the annual Electronic Imaging symposium.
Contact:
Amy Nelson
Public Relations Manager
amy@spie.org
+1 360 685 5478
@SPIEtweets