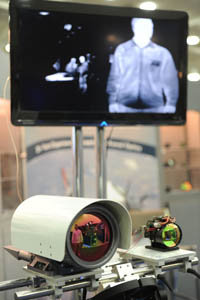 Thermal imaging is among sensing
and imaging technologies advanced
at SPIE DSS; above, a display in
last year's exhibition.
BELLINGHAM, Washington, USA -- Engineers, scientists, researchers, program managers, and applications developers will be in Baltimore next month for SPIE DSS, the industry's most important scientific conference and exhibition on optics, infrared (IR) imaging, lasers, and sensing for defense, security, industry, healthcare, and the environment.
The event's co-located conferences in Sensing Technology and Applications and Defense and Security programs will run 20-24 April at the Baltimore Convention Center, and are sponsored by SPIE, the international society for optic and photonics.
SPIE DSS will include more than 2,000 technical presentations on optical technologies, systems, and materials. Approximately 6,000 participants are expected for the week's technical talks, three-day exhibition, topical panel discussions, professional development courses, and extensive industry program.
Defense and security programs include 32 conferences on optics, imaging, sensing and related technologies such as IR and mid-IR, high-power lasers, atmospheric propagation, micro- and nanotechnology, and thermography, for applications including cameras, CBRNE (chemical, biological, radiological, nuclear, and explosives) sensors, ocean sensing, and more.
A commercial and scientific sensing emphasis launched in 2014 will include 23 conferences on technologies for applications such as smartphone spectroscopy, high-resolution night-vision and thermal imaging systems, food safety, healthcare, and oil and gas exploration and monitoring.
A new track on fiber-optic sensors will highlight papers from both areas, supported by a one-day course on fiber-optic sensor design and technology, and several invited talks. While fiber-optic sensors were first developed for aerospace and defense applications that included rotation measurement and underwater acoustic sensing, the track will also cover diverse developing areas such as robotics and dangerous or life-threatening locations.
Also new this year, FLIR Systems will present speakers on the exhibition floor whose work epitomizes inventive applications of sensor systems in environmental protection and entertainment.
Academy Award winner Louie Psihoyos will discuss production of Racing Extinction, a documentary aiming to expose the hidden world of endangered species and the race to protect them against mass extinction.
Naturalist, adventurer, author, and television host Casey Anderson will present on Wild Nights, the Dark Planet Revealed, a documentary portraying his work pursuing some of the most elusive creatures on the planet.
Alan Shaffer, principal deputy to the assistant secretary for research and engineering at the Department of Defense, will outline emerging research and engineering capabilities for next-generation warfighters in an all-symposium plenary presentation.
The industry program -- open without charge to exhibition visitors as well as to registered conference attendees -- will feature a keynote address by William Chappell, deputy director of the Microsystems Technology Office at the U.S. Defense Advanced Research Projects Agency (DARPA).
Among other industry program events are:
a Strategic Partnerships panel exploring the potential of industry, academic, and government collaboration in the pharmaceutical industry, as a significant user of optical sensing, and applicable across many other sectors
a technology-transfer workshop with representatives from U.S. government labs, the venture-capital community, and industry, focusing on technology commercialization for early-stage defense and homeland security applications with an emphasis on mid-IR technologies, led by Joseph Montemarano, executive director of the Mid-InfraRed Technologies for Health and the Environment (MIRTHE) Engineering Research Center at Princeton University
a commercialization workshop to show prospective entrepreneurs how new products make their way out of universities and federal labs, led by Stephen Auvil, senior vice president of technology transfer and commercialization at Maryland Technology Development Corp.
sessions on best legal practices for navigating ITAR and other international trade regulations and on updates to the U.S. munitions list that will impact ITAR.
Michael Gill, Secretary of the Maryland Department of Business and Economic Development, will open the DSS Expo Tuesday morning. The exhibition will showcase 400 industry-supplier and applications-development companies showing core technologies, announcing new-product announcements, and providing product demonstrations. The DSS Expo will run Tuesday through Thursday.
More than 35 half- and full-day courses cover current approaches in lasers and applications, sensors, imaging, IR systems, as well as optical and optomechanical engineering.
Conference proceedings will be published online in the SPIE Digital Library as approved following the event, with CD and print publication to follow.
About SPIE
SPIE is the international society for optics and photonics, a not-for-profit organization founded in 1955 to advance light-based technologies. The Society serves nearly 256,000 constituents from approximately 155 countries, offering conferences, continuing education, books, journals, and a digital library in support of interdisciplinary information exchange, professional networking, and patent precedent. SPIE provided more than $3.4 million in support of education and outreach programs in 2014. www.spie.org
---
Contact:
Amy Nelson
Public Relations Manager
amy@spie.org
+1 360 685 5478
@SPIEtweets
---
All photos © SPIE, the international society for optics and photonics, except where noted.
---