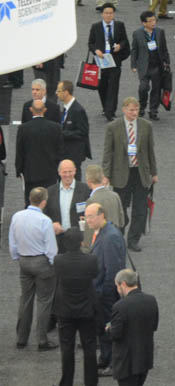 The busy exhibiton floor is a
perfect place to explore
dual-use technology
opportunities; above, part of
the crowd on the floor at
SPIE DSS 2013.
BELLINGHAM, Washington, USA -- SPIE, the international society for optics and photonics, is launching a new symposium in 2014 to serve the drive to commercialize sensing technologies and expand development opportunities for dual-use applications. The new SPIE Sensing Technology + Applications (STA) will run 5-9 May at the Baltimore Convention Center, co-located with SPIE Defense + Security. Abstracts are being accepted through 21 October.
STA 2014 will highlight existing conferences on sensors and sensing technologies for health, industry, automotive and the environment along with new topics including:
Spectral Imaging Sensor Technologies: Innovation Driving Advanced Application Capabilities
Sensors for Extreme Harsh Environments
Dimensional Optical Metrology and Inspection for Practical Applications
Image Sensing Technologies: Materials, Devices, Systems, and Applications
Next-Generation Sensors for Robotics
Fiber Sensing for Oil and Gas
Information Fusion for Smart Cities
"The field of sensors, and in particular those with photonic-based capabilities, is rapidly expanding in directions that offer rich possibilities for new technologies," said Andrew Brown, SPIE Senior Director for Global Business Development. "Humans carry multiple sensors every day, in smartphones and other devices, and sensors and sensor networks are used across the globe in almost every conceivable industry and application."
The event includes the East Coast's largest exhibition for precision optics, lasers, sensors, optical materials, thermal imaging, optoelectronics, instrumentation, data analysis and related applications, connecting government, academic and industry researchers and developers with more than 500 companies supplying the field with the latest systems, applications and devices.
Training opportunities include a full suite of professional development short courses on topics including infrared sensors and systems, optical and optomechanical engineering, imaging and sensing and laser sensors and systems.
"Since the beginning of civilization, defense and security needs have been primarily responsible for spurring new technology development which has subsequently found non-military and commercial applications," said Tom George of Zyomed Corp., chair of the conference on Micro- and Nanotechnology Sensors, Systems and Applications. "In our time, initially defense-funded advances in integrated circuit design and the internet have been singularly responsible for the highest quality of life compared to any preceding time in the human saga."
George said STA aims to capitalize on the natural evolution of technology into sectors including automotive and transportation, consumer products, healthcare, construction, energy, agriculture and the environment.
Steering committee member and Advanced Environmental, Chemical and Biological Sensing Technologies conference chair Robert Lieberman of Intelligent Optical Systems said STA will provide a forum for photonics scientists and engineers to discuss topics in optical sensing and monitoring as diverse as advanced focal plane arrays and nanoscale chemical detection.
"Most exciting will be the opportunity to see talks and exhibits covering the entire scope of the sensor product development cycle -- from academic research to industrial deployment," Lieberman said. "The field of optical sensing is burgeoning. Fiber-optic sensing is migrating from high-value military applications to large-scale deployment in oil fields; optical biosensors are moving beyond medical applications into agriculture and food safety; plasmonic- and metamaterial-based sensors are no longer theoretical possibilities, but are being fabricated."
Accepted papers will be published in the SPIE Digital Library as soon as approved after the event, and in print volumes and digital collections.
SPIE is the international society for optics and photonics, a not-for-profit organization founded in 1955 to advance light-based technologies. The Society serves more than 235,000 constituents from approximately 155 countries, offering conferences, continuing education, books, journals, and a digital library in support of interdisciplinary information exchange, professional networking, and patent precedent. SPIE provided over $3.2 million in support of education and outreach programs in 2012.

###

Media contact:
Amy Nelson
Public Relations Manager, SPIE
+1 360 685 5478
amy@spie.org
@SPIEtweets