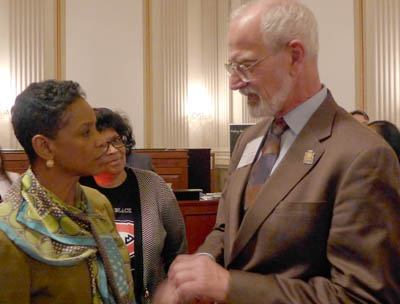 Rep. Donna Edwards (D-Maryland) is congratulated by SPIE President-Elect Robert Lieberman after being awarded the George E. Brown Award during the STEM on the Hill reception. Edwards and Sen. Richard Shelby (R-Alabama) were honored with the award for their vision in promoting public policies that benefit science and engineering. (More photos below.)

WASHINGTON, D.C., and BELLINGHAM, Washington, USA -- Volunteers supported by SPIE, the international society for optics and photonics, were among 320 scientists, researchers, engineers, and other industry professionals from across the USA who visited Congressional offices in Washington, D.C., last week to express support for key issues related to photonics technologies and R&D.
The SPIE Congressional Visits Day (CVD) team were part of a 39-member National Photonics Initiative (NPI) group participating in the 20th Science-Engineering-Technology Working Group (SETWG) "STEM on the Hill" event. SPIE is a Founding Sponsor of the NPI.

Volunteers representing photonics urged support for:
The President's budget request for funding two new, to-be-determined Institutes of Manufacturing Innovation (IMIs) funding, as a part of National Network for Manufacturing Innovation (NNMI) public-private partnership. (In June 2014, the DOD launched a competition to create an Integrated Photonics IMI. Three consortia are competing to host the new institute and the winner is expected to be announced this summer.)
The President's budget request for science research and development within the National Science Foundation (NSF), National Institute of Standards and Technology (NIST), National Institute of Health (NIH) and the Department of Energy's (DOE) Office of Science, and Department of Defense (DOD) science and technology programs.
Rejection of the administration's budget request for cuts in the DOD basic research account. The NPI is urging Congress to uphold a proposal increasing funds for applied research.
Reauthorization of the America Creating Opportunities to Meaningfully Promote Excellence in Technology (America COMPETES) act, which expired in 2013, and for the inclusion of "optics and photonics" in the language of the bill. The 114th Congress has yet to introduce America COMPETES to either chamber.
"NPI CVD was a very positive experience," said Jim McNally, chair of the SPIE Engineering, Science, and Technology Policy (ESTeP) committee and member of the SPIE Board of Directors. "At each office we visited, we delivered our message of support for the priority of providing funding for legislation that will enable photonics to help make the economy stronger and our technology more competitive."
McNally, who traveled from Albuquerque to participate, said the combination of visits and leave-behind materials proved to be very effective. "Our New Mexico senators, Tom Udall and Martin Heinrich, are very supportive of our priorities," he said. "Our visits and the materials prepared by SPIE and NPI to leave with our elected federal officials and their staffs were well received."
Volunteers on the SPIE CVD team and the regions they represented included:
Christina Willis, Washington, D.C.
Farzan Ghauri, Illinois
Filipp Ignatovich, New York
Jason Mulliner, Arizona and New Jersey
SPIE Fellow Jim McNally, New Mexico
Julia Majors, California and Texas
SPIE Fellow Marc Himel, Florida
SPIE Fellow Martin Richardson, Florida
Murat Yildirim, Texas
Nishant Mohan, North Carolina
SPIE President-Elect Robert Lieberman, California
Stephen Anderson, Maryland
Tyler Morgus, New Jersey
Tom Battley, New York
Volker Sorger, Virginia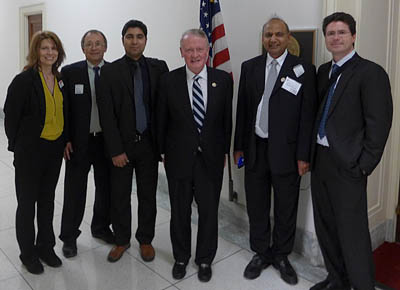 Members of the New Jersey-Illinois STEM on the Hill team met with Rep. Leonard Lance (R-New Jersey); from left, Krisinda Plenkovich (SPIE), Richard Vodhanel, Farzan Ghauri, Lance, Naresh Chang, and Tyler Morgus.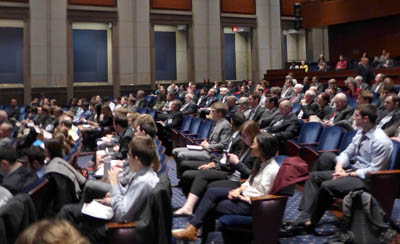 STEM on the Hill activities include a pre-visits orientation presented by SETWG.
About SPIE
SPIE is the international society for optics and photonics, a not-for-profit organization founded in 1955 to advance light-based technologies. The Society serves nearly 256,000 constituents from approximately 155 countries, offering conferences, continuing education, books, journals, and a digital library in support of interdisciplinary information exchange, professional networking, and patent precedent. SPIE provided more than $3.4 million in support of education and outreach programs in 2014. www.spie.org
---
Contact:
Amy Nelson
Public Relations Manager
amy@spie.org
+1 360 685 5478
@SPIEtweets
---
All photos © SPIE, the international society for optics and photonics, except where noted.
---