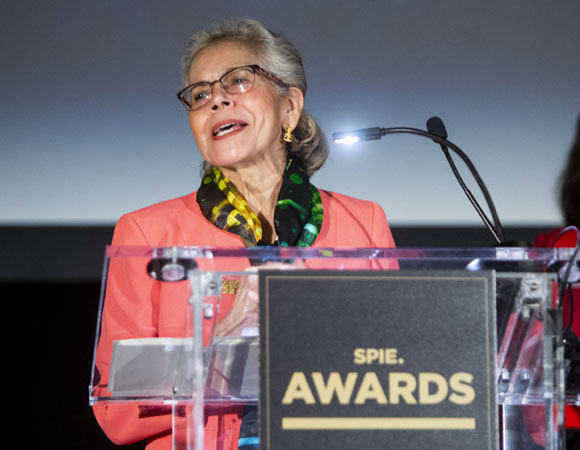 Carmiña Londoño speaks to the audience at the SPIE Optics + Photonics Awards Banquet.

BELLINGHAM, Washington, USA and CARDIFF, UK - Yesterday evening, at the Awards Banquet at SPIE Optics + Photonics in San Diego, SPIE, the international society for optics and photonics, honored Carmiña Londoño with its 2019 SPIE Directors' Award.
Londoño, an SPIE Fellow, is the deputy division director of the National Science Foundation Division for Electrical, Communication, and Cyber Systems. Over the last 30 years, she has actively contributed to SPIE, supporting its mission to advance light-based research, engineering, and technologies that address societal challenges at a global scale and result in the betterment of humanity.
Londoño was recognized with the SPIE Directors' Award for her exceptional contributions to SPIE, her work on numerous conference and leadership committees, her advocacy for public policy that supports photonics, shaping the SPIE Student Chapter program, service as the SPIE representative to the International Commission for Optics, and co-founding the SPIE Women in Optics program. She has also served twice on the SPIE Board of Directors.
The SPIE Directors' Award is presented to an individual who, in the opinion of the Board of Directors, has rendered a significant service of outstanding benefit to the Society.
About SPIE
SPIE is the international society for optics and photonics, an educational not-for-profit organization founded in 1955 to advance light-based science, engineering, and technology. The Society serves 257,000 constituents from 173 countries, offering conferences and their published proceedings, continuing education, books, journals, and the SPIE Digital Library. In 2018, SPIE provided more than $4 million in community support including scholarships and awards, outreach and advocacy programs, travel grants, public policy, and educational resources. www.spie.org.
________________________________________
Contact:
Daneet Steffens
Public Relations Manager
daneets@spie.org
+1 360 685 5478
@SPIEtweets