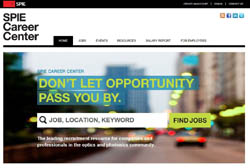 The new SPIE Career Center features
improvements such as better search and
navigation, and a broader international focus.
BELLINGHAM, Washington, USA -- Finding the best job opportunities or most qualified candidates in the ever-growing optics and photonics industry is easier with several recent changes to the SPIE Career Center website.
Now accessible at https://spiecareercenter.org, the new site, managed by SPIE, the international society for optics and photonics, provides more international connections in an already richly networked audience, and improved navigation and search functionality.
Other improvements include more articles with career advice, industry news, SPIE.TV video interviews and features, and information about continuing education opportunities. Advertising opportunities for employers have expanded with increased options for online banner and print advertising. The website has also become more internationally friendly by listing salaries in several currencies and by collaborating with optics.org, SPIE's industry news site. That site now offers a Jobs section which shares the same job listings and functionality as the SPIE Career Center.
"We have teamed up with optics.org to attract even more international employers and to increase our talent pool of top optics and photonics professionals from around the world," said Andrew Brown, SPIE Senior Director of Global Business Development. "Our ongoing goal is to grow this popular service and provide an increased number of job opportunities from around the world."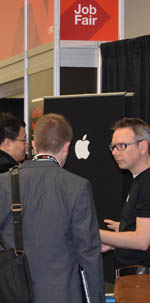 SPIE Job Fair at
Photonics
West 2013.
For job seekers, the website allows searches for job openings, résumé posting, and access to resources such as interviews with professionals in the field. Users may set up job alerts to receive notifications when new postings that fit their criteria appear.
Brown said that thousands of companies have found qualified employees through the site, enabled by its highly targeted audience, competitive job posting packages, and job fairs at leading industry events.The site attracts optical engineers, researchers, physicists, scientists, educators, technicians, and technical sales professionals; 66% have engineering or R&D backgrounds, and 80% hold advanced degrees.
The next SPIE Career Center Job Fair will be 27-28 August at SPIE Optics and Photonics in San Diego, and is accessible free of charge to registered exhibition attendees. Thorlabs, Microsoft, Zygo, and Teledyne Scientific & Imaging are among companies who will have representatives on hand to meet and interview candidates.
SPIE is the international society for optics and photonics, a not-for-profit organization founded in 1955 to advance light-based technologies. The Society serves more than 235,000 constituents from approximately 155 countries, offering conferences, continuing education, books, journals, and a digital library in support of interdisciplinary information exchange, professional networking, and patent precedent. SPIE provided over $3.2 million in support of education and outreach programs in 2012.
###
Media contact:
Amy Nelson
Public Relations Manager, SPIE
+1 360 685 5478
amy@spie.org
@SPIEtweets