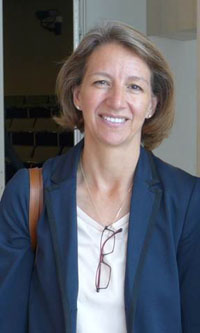 Rebecca Richards-Kortum
at SPIE Translational
Biophotonics, held at
Rice University
BELLINGHAM, Washington, USA , and CARDIFF, UK — Leaders of SPIE, the international society for optics and photonics, are congratulating SPIE Senior Member Rebecca Richards-Kortum who was announced today as the winner of a 2016 MacArthur Fellowship.
"We at SPIE are delighted to see today's recognition for the contributions and achievements of Professor Richards-Kortum" said SPIE President Robert Lieberman. "She is truly an inspiring researcher and teacher, instilling in her students and others her passion for using technology to benefit those who need it the most. She and her lab have been recognized for inventions that have enhanced the capability to detect cancer in novel ways that are more effective and more affordable, including systems that can be used in challenging environments where electricity may be undependable and resources for equipment are few.
"We and other colleagues have been privileged to benefit from her leadership and insights at SPIE conferences and through her many publications, and heartily congratulate Rebecca on the award of this MacArthur 'genius grant'."
Richards-Kortum is the Rice University Malcolm Gillis University Professor in bioengineering and electrical and computer engineering at Rice University, and founder and director of the Rice 360°: Institute for Global Health Technologies.
In 2005, with the support of the Howard Hughes Medical Institute, she and Rice colleague Maria Oden founded Rice's educational initiative, Beyond Traditional Borders, now institutionalized as an undergraduate minor in global health technologies.
Richards-Kortum and Oden received the Lemelson-MIT Award for Global Innovation in 2013, and donated the $100,000 prize money to a project to renovate the neonatal ward at Queen Elizabeth Central Hospital in Malawi.
A driver for Richards-Kortum's vision is an understanding of the scope of need and the capability of technology to meet that need.
"In the developing world, low-cost portable optical systems could revolutionize gynecologic cancer screening, preventing the unnecessary death of hundreds of thousands of women each year," Richards-Kortum wrote in a 2004 guest editorial for a special section on Biomedical Optics and Women's Health in the Journal of Biomedical Optics.
Along with accuracy, timing is an issue for patients in low- and middle-income countries, who are frequently diagnosed at later stages of disease, Richards-Kortum wrote in a 2009 article in the SPIE Newsroom.
"In developing-world settings, most diagnoses are based purely on clinical signs and symptoms," she noted. "Providing access to objective screening tools at the point of care can have a significant impact on cancer-related mortality and morbidity by enabling early detection, when treatment is cheaper and more effective, and by reducing the burden on overworked pathology laboratories. Optical imaging technologies are well suited to fill this need."
Her team members work alongside physicians and patients in clinical environments in multiple countries, providing the opportunity "to see firsthand the challenges associated with current medical technologies," Richards-Kortum said in an SPIE Women in Optics planner feature article in 2008. "It is extremely rewarding to see a technology that you helped develop actually reach the clinic. The opportunity to be part of a team that can address the desperate need for appropriate health technologies is very motivating."
Among other inventions, her lab has introduced:
DoseRight dosing clips, designed to provide accurate dosing of liquid oral medication in response to the common mis-dosing of medicine in children
Global Focus Microscope, a microscope using battery-operated LED lighting to achieve fluorescent microscopy, which can quickly diagnose diseases like tuberculosis and malaria.
At SPIE Photonics West last January, Richards-Kortum described an affordable, compact, and low-cost high-resolution microendoscopy (HRME) method that could eventually eliminate the need for taking excision biopsies in screening for esophageal cancer, which is highly prevalent in developing countries. Traditional screening techniques offer high sensitivity but low specificity, leading to poor prognosis. Her lab's tablet-interfaced HRME achieved very high sensitivity and specificity, helping to more accurately identify diseased tissues and more effectively treat patients. (Her published presentation in the Proceedings of SPIE is available via open access in the SPIE Digital Library until the end of 2016.)
Awarded by the John D. and Catherine T. MacArthur Foundation for exceptional creativity, promise for important future advances based on a track record of significant accomplishment, and potential for the fellowship to facilitate subsequent creative work, the fellowship comes with a $625,000 prize. The award is commonly referred to as the "MacArthur genius grant."
Richards-Kortum is a member of the U.S. National Academy of Engineering and a Fellow of the U.S. National Academy of Inventors, the Biomedical Engineering Society, and the American Association for the Advancement of Science.
"The opportunity to be part of a team that can address the desperate need for appropriate health technologies is very motivating."– Rebecca Richards-Kortum
About SPIE
SPIE is the international society for optics and photonics, an educational not-for-profit organization founded in 1955 to advance light-based science, engineering and technology. The Society serves nearly 264,000 constituents from approximately 166 countries, offering conferences and their published proceedings, continuing education, books, journals, and the SPIE Digital Library. In 2015, SPIE provided more than $5.2 million in support of education and outreach programs. www.spie.org
---
Contact:
Amy Nelson
Public Relations Manager
amy@spie.org
+1 360 685 5478
@SPIEtweets
---