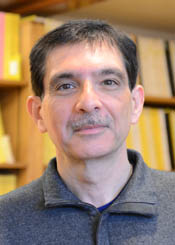 Bob Hainsey has joined SPIE as
the Society's Science and
Technology Strategist.
BELLINGHAM, Washington, USA, and CARDIFF, UK -- Bob Hainsey, a semiconductor processing and photonics technology development leader with more than 20 years in the industry, has joined SPIE, the international society for optics and photonics. Hainsey will serve as the society's Science and Technology Strategist.
"We are delighted to have Dr. Hainsey join SPIE as our Technology Strategist, further strengthening the technical core of the society staff," said Dr. Andrew Brown, SPIE Senior Director for Global Business Development. "With his research background and accomplished industry career Bob adds a wealth of knowledge and experience to SPIE's world-class team, and will help ensure our services are aligned with the ever changing needs of the global photonics community."
Most recently, Hainsey was Senior Director of Central Research, Development and Engineering at Electro Scientific Industries (ESI), headquartered in Portland, Oregon, USA, with facilities in the USA, Canada, Europe, and Asia and manufacturing operations in Singapore.
At ESI, Hainsey led the development of novel laser and optics technologies for use in laser micromachining applications. His teams created new laser applications in consumer electronics and other markets. He managed teams in the USA, China, and the EU during his tenure at ESI, and has conducted joint research with universities and centers of excellence in the USA, Canada, China, and the EU.
Hainsey began his career with Intel's Technology Development organization where he worked on lithography programs for phase shift masks and transistor patterning.
He is named as inventor on 11 patents, has published 14 peer-reviewed journal articles and conference proceedings papers, and has been active with several scientific and engineering societies as a conference organizer and invited speaker. He holds a Ph.D. in physics from Carnegie Mellon University in Pittsburgh, Pennsylvania, USA.
SPIE is the international society for optics and photonics, a not-for-profit organization founded in 1955 to advance light-based technologies. The Society serves nearly 235,000 constituents from approximately 155 countries, offering conferences, continuing education, books, journals, and a digital library in support of interdisciplinary information exchange, professional networking, and patent precedent. SPIE provided $3.2 million in support of education and outreach programs in 2013.
Contact:
Amy Nelson
Public Relations Manager
amy@spie.org
+1 360 685 5478
@SPIEtweets