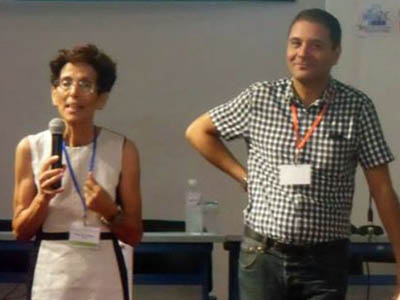 Program committee members including Zohra Ben Lakhdar, left, and Optical Society of Tunisia President Mourad Zghal welcomed participants to the First African Summer School on Optics and Applications to Sustainable Development.
TUNIS, Tunisia -- More than 60 graduate and post-doctoral students and 20 speakers from several countries attended the recent first African Summer School on Optics and Applications to Sustainable Development (ASOSD) in Tunis.
Organized by the Optical Society of Tunisia and supported by SPIE, the international society for optics and photonics, the International Commission for Optics (ICO), International Centre for Theoretical Physics (ICTP), African Laser, Atomic, Molecular and Optical Sciences Network (LAM), the Optical Society (OSA), and several other organizations, the school ran 31 August through 8 September.
The workshop series is being organized by universities throughout Africa to provide education and training for advanced graduate students and post-doctoral faculty in optics, laser science and technology. A second workshop is being planned for 2015.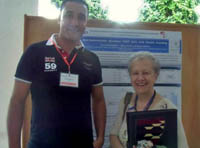 Above, first-place Best Poster Award
winner and SPIE Student Member Amor
Gueddana with juror
Maria Yzuel;
below, from left, second
place winner
Guilia Alice Fornaro with
jurors Roberta
Ramponi, George
Thompson, and
Joe Niemela.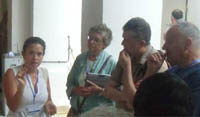 Students and speakers at this year's event were from Tunisia, Algeria, Morocco, Egypt, Cameroon, Kenya, Portugal, South Africa, Nigeria, Italy, and France.
Topics included optical communications, optical fibers and lasers; industrial applications and laser material processing; optics and the environment; optics and energy; biophotonics, biomedical applications and optical diagnosis techniques; and theoretical methods and experimental techniques.
Among the invited speakers, SPIE Fellow Zohra Ben Lakhdar of Tunis El Manar University gave an overview of ICO activities.
John Dudley of the Université de Franche-Comté spoke on progress "Towards an International Year of Light 2015." Dudley is president of the European Physical Society and has been heading up the initiative working for United Nations endorsement and launch of an International Year of Light.
Other invited speakers included:
Rim Cherif (assistant professor, Faculty of Sciences, Tunis El Manar University) on "Publishing articles in peer-reviewed journals"
Manuel Filipe M. Costa (assistant professor, Department of Physics, Universidade do Minho) on "Optical non-invasive microtopographic inspection of surfaces"
Roberta Ramponi (Director, Institute of Photonics and Nanotechnology, Italian National Research Council, Politecnico di Milano) on "Femtosecond laser micromachining and its applications to the realization of biomedical and photonic devices"
Joe Niemela (Director, Office of External Affairs, ICTP) on "Optics activities in ICTP"
Ahmadou Wague (professor, Université Cheikh Anta Diop) on "Laser spectroscopy and applications at the Laboratoire Atomes Lasers."
The workshop included a popular poster session with Best Poster Awards and prizes sponsored by SPIE. First prize was awarded to Amor Gueddana (Sup'Com-Tunisia) for his paper on "Nondeterministic quantum CNOT gate with double encoding." Second prize went to Giulia Alice Fornaro (CERN) for "Optical coupling optimization between scintillators and photodetectors." Jurors included Niemela, Ramponi, Wague, Zghal, George Thompson (ICTP), and SPIE Past President María Yzuel (Universidad Autónoma de Barcelona).
"As light becomes a key cross-cutting discipline of science in the 21st century, it is essential that its importance is fully appreciated," said SPIE Senior Member Mourad Zghal, president of the Optical Society of Tunisia and chair of the workshop. "It is equally vital that the brightest young minds from all areas of the world continue to be attracted to careers in this field." Zghal is associate professor at the Ecole Supérieure des Communications de Tunis (Sup'Com), Université de Carthage.
More information on the summer school is available at school-tunisia-optics.org.
SPIE is the international society for optics and photonics, a not-for-profit organization founded in 1955 to advance light-based technologies. The Society serves more than 235,000 constituents from approximately 155 countries, offering conferences, continuing education, books, journals, and a digital library in support of interdisciplinary information exchange, professional networking, and patent precedent. SPIE provided over $3.2 million in support of education and outreach programs in 2012.

###

Media contact:
Amy Nelson
Public Relations Manager, SPIE
+1 360 685 5478
amy@spie.org
@SPIEtweets