Associate Professor, Department of Physics and Computer Architecture, Universidad Miguel Hernández, Spain
Country of Birth: Spain

Educational Background: PhD, BS Physics, Universitat Autònoma de Barcelona, Spain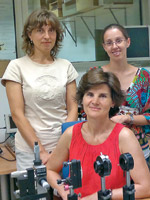 Since very young, I was fascinated by space and cosmology; I liked reading books and watching programs about it. My father had many science divulgation books by Isaac Asimov and others, which sparked my desire to become a scientist. Also, I enjoyed and was good at mathematics and physics at high school, so getting a degree in physics and later finding a PhD advisor was my natural choice.

As an associate professor at the university, my primary responsibilities are teaching and research. Besides lecturing in undergraduate and graduate programs, I also supervise final degree projects and PhD theses, write scientific papers, attend conferences, apply for funding, and plan with my co-workers new directions to explore. I am part of a small team conducting optoelectronics research, where I lead a research line on pulse propagation in systems exhibiting strong dispersion. This job is very creative and stimulating; you never get bored. I particularly enjoy supervising students and discussing new results with my colleagues - I feel I am constantly learning.

STEM offers a myriad of possibilities; talk with as many professionals you can in order to shape your choice. Consider your innate skills but remember that many others can be acquired; motivation is a driving force if you like your work. Last but not least: avoid gender clichés, which are simply not true, and remember that a rewarding career in STEM and a family life is possible if both things are what you want.