Assistant Professor, University of Michigan, Ann Arbor, USA
Country of Birth: Iran

Educational Background: PhD, MS, Electrical Engineering, Stanford University, USA; BS Electrical Engineering, Sharif University of Technology, Iran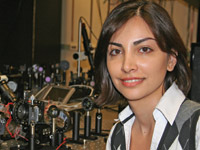 In high school I became very much interested in physics. I was fascinated by the fact that laws of physics could describe the operation of many electronic and mechanical instruments used in our daily lives. This made me eager to learn more, dreaming of inventing new gadgets that could solve big problems and significantly improve people's lives.

Now, as a professor in electrical engineering and applied physics, I am developing innovative terahertz devices and systems for advanced medical imaging, chemical sensing, atmospheric studies, space exploration, security screening, and industrial quality control. I lead a research group that works on terahertz optoelectronic devices and systems. I apply for grants and recruit new students and post-docs to explore the new research ideas. I write research papers, give talks at conferences and research institutes, serve as editor and reviewer for scientific journals and magazines, and participate in conference organizing committees and various other professional committees. Apart from advising graduate and undergraduate students and mentoring post-doctoral scholars, I teach graduate and undergraduate courses in terahertz technology, optics, and electromagnetics.

Many opportunities exist in gaps between fields, so keep your knowledge up-to-date and be ready to dive into new research directions. Be ambitious and never think you aren't good enough. Believe in yourself and don't get discouraged by the obstacles along your way.