Bachelor Student, Photonics21 Young Ambassador of Photonics Education, Observer on the Group of Young Advisors to the Digital Agenda for Europe
Country of Birth: The Netherlands

Educational Background: Currently pursuing a BSc Physics, BSc Mathematics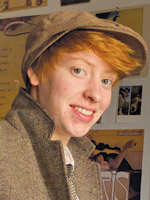 As long as I can remember, I have wondered how and why things work. I have always been fascinated by the natural world as well as humanmade constructions. My curiosity to understand the fundamental laws underlying what we see and can create, made me want to explain and manipulate the structures and patterns in the world around us. Studying physics seemed a very natural extension of this curiosity.

Making choices has been my biggest challenge so far. There are so many choices to make: what studies to pursue, what subjects to choose, and how to divvy up your time. Since our educational system makes it very hard to become a true homo universalis, maintaining a careful balance between my many different interests proved quite a task. I learned that it is rewarding to pursue an individual mix of subjects. At the same time I learned that one shouldn't be afraid to choose: A well-informed choice simply unlocks new decisions, paths and alternate worlds - whereby many roads lead to Rome.

My advice to girls who consider a career in STEM is: STEM provides you with a great perspective on the world - if this is where your heart lays, then do it. If you're not sure yet, then give it a try and be surprised. In whatever you pursue, you should stay fair and true to yourself: be your own best friend and supporter. Regardless of the career you choose, you will need to work hard and deal with setbacks, to be successful and make a difference in the world. The only way to retain your creativity, fun and energy, and remain a happy and healthy person while doing so, is to trust in yourself and have confidence in your own choices.