Emily Gallagher - 2014 SPIE Women in Optics Planner
Senior member of Technical Staff, IBM Microelectronics, USA
Country of Birth: Canada

Educational Background: PhD Physics, Dartmouth College, USA; MS Applied Physics, Yale University, USA; BA Physics, Bryn Mawr College, USA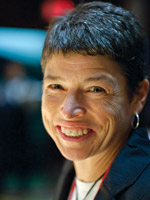 My mother studied Architecture at MIT in the 50s, when very few "coeds" were there. I grew up respecting engineering and science and knowing that technical fields were open to me.

The biggest obstacle I ever faced was a superior who did not have my best interests in mind. (This only happened once.) In the end, the situation was diffused by clearly understanding and documenting the situation, soliciting help from others and never, never blaming nor showing disrespect (despite the desire to do otherwise!).

Flatten your weaknesses, and focus on your strengths.

f you do not achieve the highest grade or do not win the first promotion, remain positive and believe in yourself even when there are obstacles.