Principal Investigator, Britton Chance Center for Biomedical Photonics; Assistant Director, Wuhan National Laboratory for Optoelectronics, Huazhong University of Technology, China
Country of Birth: China

Educational Background: PhD Biophotonics, Swinburne University of Technology, Australia; MSc, BSc Optoelectronic Engineering, Huazhong University of Science and Technology, China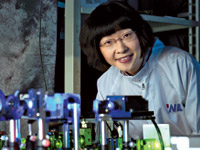 As a young girl, I was interested in math and geography. After entering university, I was excited to see how optoelectronic science and technology make fascinating tools and change our daily lives. Then I decided to pursue my highly professional career and contribute to this field. Fortunately, the community, supervisors, students, and my family are all supportive to make my work enjoyable.

Doing research and education as a university professor is the very magic that keeps you fresh. I am one of the Principal Investigators at our biophotonics center, and my research group aims to develop novel optical imaging tools to visualize the living subjects at the cellular level. I am responsible for identifying scientific topics, securing research funding, training Master's and PhD students, designing and conducting experiments, writing papers etc. I teach Fourier Optics for undergraduate students. In addition, I also serve as an editor for a journal, and as a
conference organizer. Passion and persistence are more precious than the hard work.

It is important to stay with a high-profile team and encouraging colleagues. Whatever the topic you choose for research, the goal is to be one of the best in your field. If you think that STEM is what you want to do, please do it. We also need to learn how to balance hard work and family life! Generally, women have to pay more to achieve the fantastic outcomes.