Executive Vice President, Marketing, Edmund Optics, USA
Country of Birth: USA

Educational Background: MSB (Master's in Business Studies); BS/BA Management & Marketing, Georgetown University, USA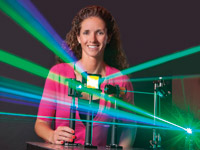 My grandfather founded Edmund Optics in 1942 with the dream of getting more people excited about the science of optics-especially students. My father carried on that legacy and further evolved Edmund Optics Inc. into a premier supplier of optics to the research, university and industrial marketplace around the world. Their work and dedicated interest in the field of optics inspired me to join our family business and continue the family legacy.

My primary role includes the global coordination of Edmund Optics' extensive marketing efforts, including the catalog, website, email program, social media, video platform, print advertising, and database analytics. This is especially interesting as we operate in more than nine different languages throughout the world with both global and regional marketing programs. Likewise, in launching close to 500 new products a year, I have the unique opportunity to see what's new in optics and connect with customers on how these products can be utilized in their applications. I
love events like Photonics West where we get to see the marketing really come to life with customers, demonstrations, and the support of SPIE.

Oddly enough, my biggest obstacle is not being a "technical" person in a technical industry. In an effort to overcome this, I have taken every opportunity to learn the science of optics, how our products are utilized, and better understand customer needs. Speaking the language of optics and learning as much as possible about our products remains critical to my own development, as well as to our marketing efforts.