Colette DeHarpporte - 2014 SPIE Women in Optics Planner
Founder/Owner, LASER Classroom, USA
Country of Birth: USA

Educational Background: MA Organizational Management, Concordia University, USA; BS Public Health, University of Southern California, Los Angeles, USA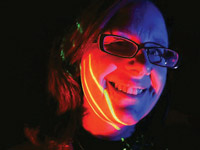 Even when I was very young, my meteorologist father would offer "real" scientific answers to my questions; this made me feel smart and capable and endlessly curious. Later, when I took undergraduate science courses, I felt like someone was handing me the keys to the kingdom, like I was being let in on the secrets of the universe. I went to work in Public and Community Health where I developed a passion for how education and learning could empower people in their lives.

I am the founder of LASER Classroom - a business that creates and distributes tools and curricula for teaching kids about light, lasers and optics - with the ultimate goal of increasing scientific literacy and inspiring a lifelong appreciation for science. I develop products that make learning about photonics accessible and engaging. I collaborate with teachers to write curricula that open up the world of STEM to all the students in their classrooms. I create partnerships with the education industry and photonics organizations to distribute those products and curricula. I read, learn and teach about K-12 STEM education and the burgeoning field of photonics!

The possibilities are almost endless for women and girls in STEM fields - and STEM is much broader and more inclusive than you can even imagine. Learning about STEM will make the world more interesting and more meaningful, whatever you do - and it will give you the opportunity to put your mark on the world.