Associate Professor and Head of Department of Physics and Astronomy, Macquarie University, Australia
Country of Birth: Australia

Educational Background: PhD, BS (Honours), Physical Chemistry, University of Sydney, Australia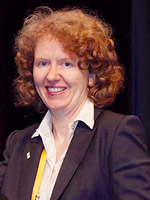 Since my childhood, I have been asking questions about how the world works. My family have all studied science, and carrying on the tradition, I have introduced my own daughters to science.

My work at the University includes teaching physics and photonics to students from first year to PhD level and researching the applications of light at the nanoscale, particularly for miniaturized integrated circuits and for biophotonics. To support this research, I need to write research proposals to seek funding to pay for the lab equipment and research staff. In particular, I am a member of the Australian Research Council Centre of Excellence (CUDOS) which researches photonics. I supervise several graduate research students who are writing their PhD theses. We have created a computer game to promote photonics to school students, which may be found at: http://physics.mq.edu.au/community/photonicssimulator/
I am also the head of a department of ~120 staff and graduate students, so I am a manager, responsible for the department budget, teaching, resources and staffing decisions.

I did not realise how much of science is a team activity, and that managing and working effectively with a group of people is a critical skill to develop. Good mentors are invaluable in helping you, but it is up to you to identify and build the career of your dreams. Once you find your passion, your enthusiasm will be contagious!

Don't be intimidated-believe in yourself and your abilities. STEM is a great area in which to work, with opportunities for creative and interesting careers in many areas. If you have the ability to communicate your ideas clearly, you have many chances to shine in STEM fields.