Research Group Leader, Fraunhofer Institute for Photonic Microsystems IPMS Dresden, Germany
Country of Birth: Romania

Educational Background: PhD Physics, Brandenburg Technical University BTU Cottbus, Germany; Diploma Physics, University of Bucharest, Romania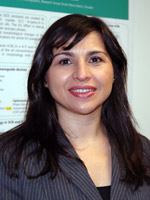 My work in science has been inspired by my teachers in my home country Romania.

Based on my research and physics teaching achievements at the Brandenburg Technical University Cottbus, I was awarded an important grant by the German Fraunhofer Society, giving me the opportunity to start a new market-oriented research direction at the Fraunhofer IPMS Dresden. Here, I built the interdisciplinary research group Smart Micro-Optics, a team of doctoral students and scientists in physics, chemistry and engineering. I am in charge of managing projects, organizing project team work and associated operating costs, acquiring publicly and industry-funded R&D projects based on the generated results, and ensuring a continuing development strategy for my research group. An important part of my work includes supervising
PhD students, writing patents and publications, presenting the scientific results at conferences and exhibitions as well as contributing to conference organization. The R&D activities of my research group range from design of innovative tunable micro-optics and integrated hybrid organic-inorganic electro-optical waveguide devices, to device fabrication using wafer-level silicon microtechnology.

A career in science stems from a passion for a particular scientific field and developing one's own scientific identity. Success in a scientific career is based not only on brainpower and skills, but also on discipline, self-confidence and determination to move up the career ladder. Also important is having support from teachers, supervisors and family, being given as well as taking opportunities when these arise, and being a fair team player. In a male-dominated field, it is often required for women to work more than their male colleagues to achieve the same position. It is difficult for women, but not impossible, and more and more women find ways to achieve these positions.